MAGNY-COURS
ex-F1 GP Track
GT Track Day

Lundi 20 Août 2018
5 x 20' | 195 €
Voitures autorisées

Abarth - Alfa Romeo 4C | 8C - Alpina - Alpine - Artega GT - Aston Martin - Audi R8 | RS | S - Bentley Continental GT | GT3-R - BMW M | i8 - Bugatti - Cadillac ATS-V | CTS-V - Caterham - Chevrolet Camaro | Corvette - Dodge Challenger | Viper - Donkervoort - Ferrari - Ford GT | RS | Mustang - Honda NSX | Type R - Hyundai i30 N Infiniti Q50 | Q60 - Jaguar F-Type | XKR | SVO - Kia Stinger - Koenigsegg - KTM X-Bow | Lamborghini - Lexus IS | LC | LFA | RC | RC F - Lotus - Maserati - Mazda MX-5 | MX-5 RF - McLaren - Mercedes-AMG - Mini John Cooper Works - Mitsubishi Lancer EVO - Morgan - Nissan GT-R | 370Z - Noble - Pagani - Peugeot Sport - Porsche - Renault Sport | R.S. - Rolls-Royce - RUF Savage Rivale GTR - Skoda Octavia RS | Superb Sportline - Spyker - Seat Leon Cupra - Subaru BRZ | WRX STI - Suzuki Swift Sport - Tesla - Toyota GT86 | Supra - Volvo T6 - VW Sport - Wiesmann.
Si vous désirez participer avec une voiture ne figurant pas dans la liste ci-dessus, mais qui selon vous devrait y figurer, passez alors un coup de fil à Frank au + 32 476 691 091.
Horaire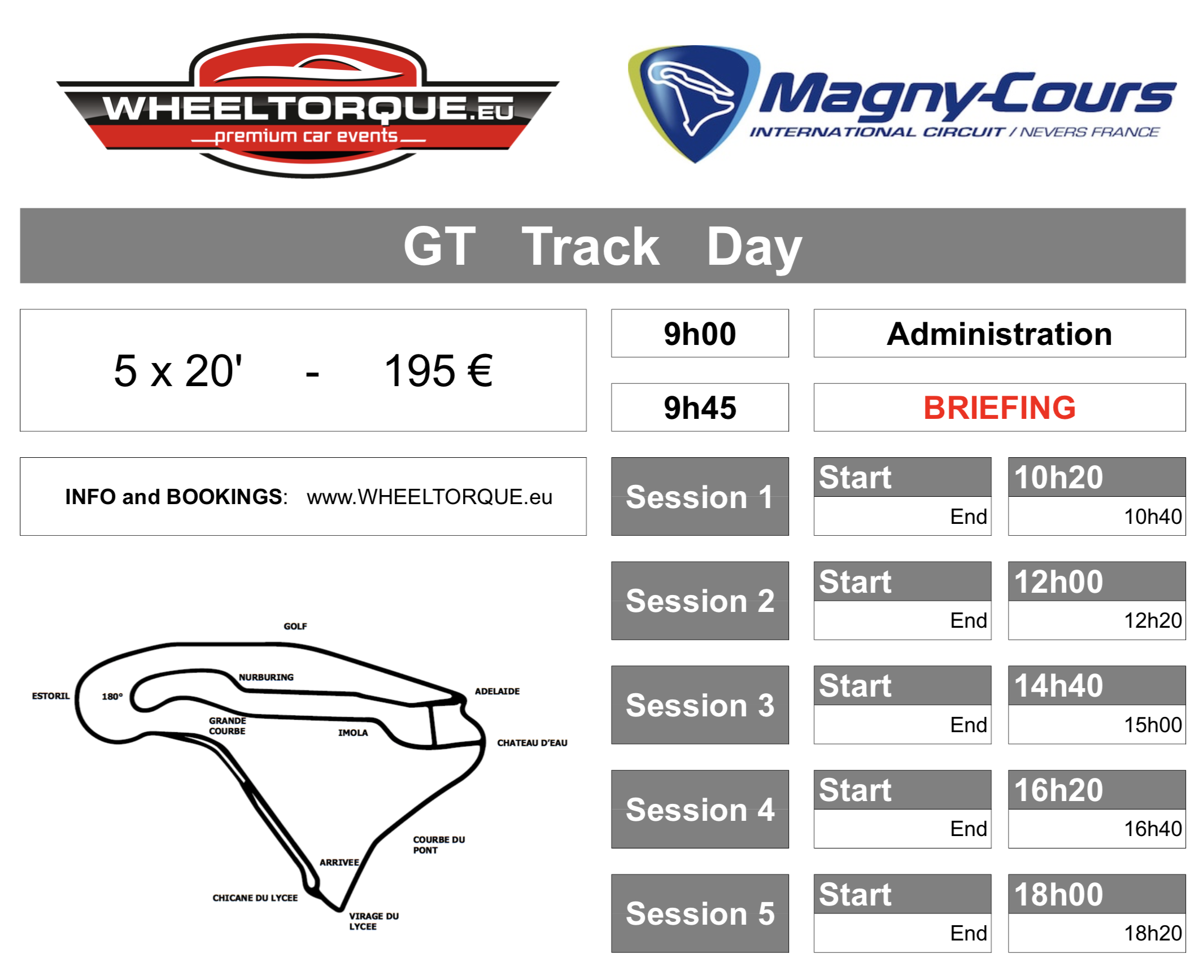 N'oubliez pas
Car that is technically 100% fit

cleaned on the outside (pictures)
cleaned windshield
checked the amount of
reasonable "fresh" tires
brake pads with some "margin" - in doubt bring extra pads with you, we can mount them for you
towing eye (has to be mounted before going on track)

Helmet | Shirt or jacket with Long sleeves | Long trousers | Comfortable, Closed shoes
Identity card | Driving licence
Positive attitude, discipline, good fellowship, a fit body in a clear mindset
Limite sonore (dB)
Please be aware that the maximum noise that your car may produce, while driving on track (= under "dynamic conditions"), is 102 dB (example: a Porsche GT3 with Akrapovic exhaust = OK).
There will be no static check before you go on track.
Sécurité
Paddock et entrée gardés
paddock and main entrance guardian (day and night)
Circuit
licensed track-officials with radio connection
intervention team
safety car
digital, visual control of the complete track from "race control"
Médical
centre médical avec 2 médecins
2 ambulances
Essence
Il y a une station d'essence disponible dans le paddock.
Service technique
Nous avons un service technique limité sur place.
Changer les plaquettes de frein sur votre voiture n'est par exemple aucun problème (si vous les avez apparté avec vous).
Nous n'avons aucune vente de plaquettes de frein ou d'autres pièces techniques.
Service de pneus
Nous avons un service pour vérifier la pression de vos pneus et la mettre sur la bonne pression si nécessaire.
Il n'y a pas de vente de pneus sur place.
Veuillez commencer cet événement avec des pneus raisonnablement "frais"!
Assurance RC compris
Chez WHEELTORQUE, l'assurance RC (Responsabilité Civile) est comprise dans le prix de la participation
Certains circuits imposent la possession d'une licence. L'unique raison est que cette license comprend une assurance RC
Vu que chez nous l'assurance RC est comprise dans le prix pour tous les participants, une license n'est pas nécessaire chez nous, et tout le monde est quand-ême tout-à-fait en ordre