3rd Valenciennes-Dijon

GT Drive Out 2019
Sat-Sun-Mon 31 Aug 1-2 Sep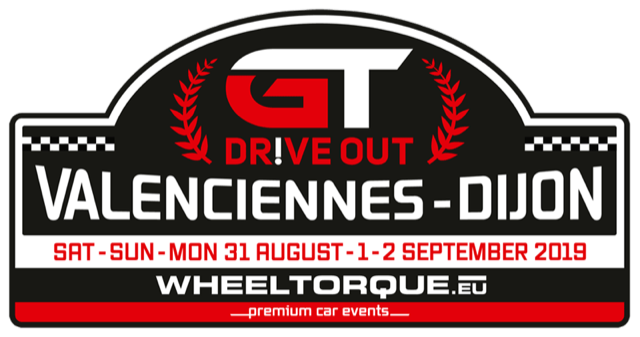 Questions? Call Frank on + 32 476 691 091
Don't forget
Car that is technically 100% fit

cleaned on the outside (pictures)
cleaned windshield
checked the amount of

oil
coolant
windschiel washer fluid

reasonably "fresh" tires
brake pads with some "margin" - in doubt bring extra pads with you, we can mount them for you (on Day 3)
towing eye (has to be mounted before going on track)

Helmet | Shirt or jacket with long sleeves | Long trousers | Comfortable, closed shoes
Identity card | Driving licence
Positive attitude, discipline, good fellowship, a fit body in a clear mindset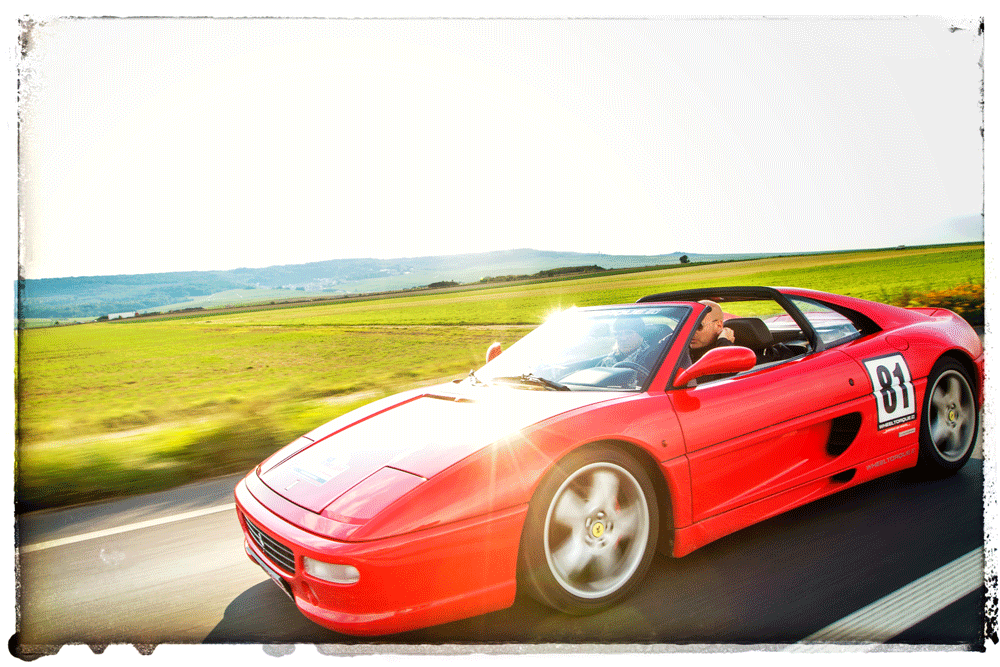 When | Where am I expected?
Saturday 31 Aug 2019 - 10u00

10.00 - 10.15 | 15' | Arrival - Parking - Acquaintance

10.15 - 11.00 | 45' | Brunch - Further acquaintance
11.00 - 11.20 | 20' | Briefing - Reception of:

Tripy II (digital road book)
Rally plate
Door number stickers
Goodie bag
11.20 - 11.40 | Preparing the cars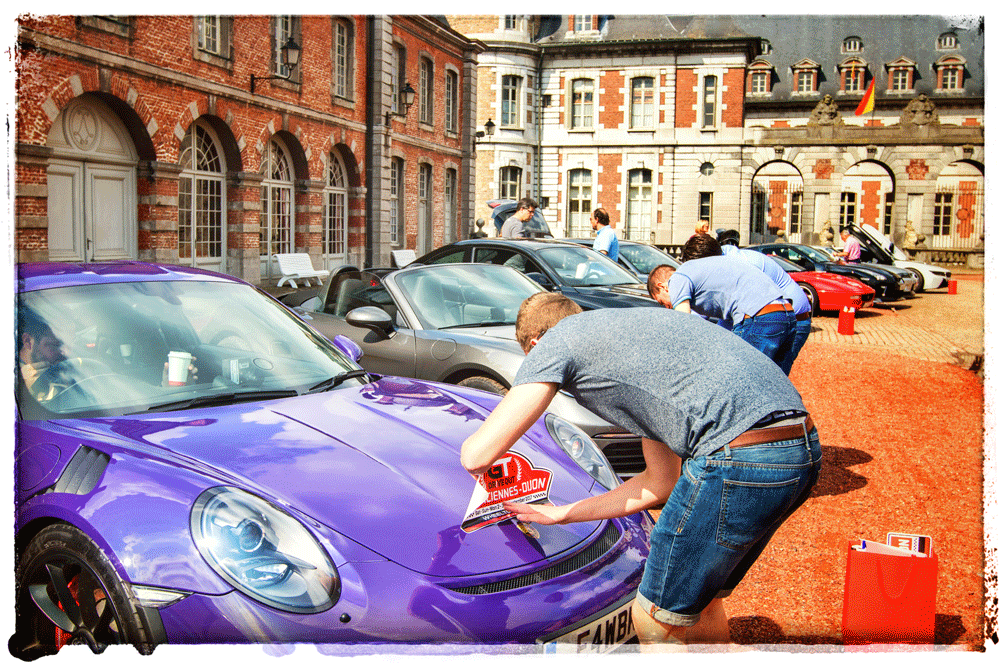 Stick rally plates and door number stickers
Stick Tripy @ windshield with supplied suction cup (battery lasts 10 hours, no cables needed)

11.45 | Start (every 45 sec. a car)
Rue du Château 11
7970 Beloeil
Belgium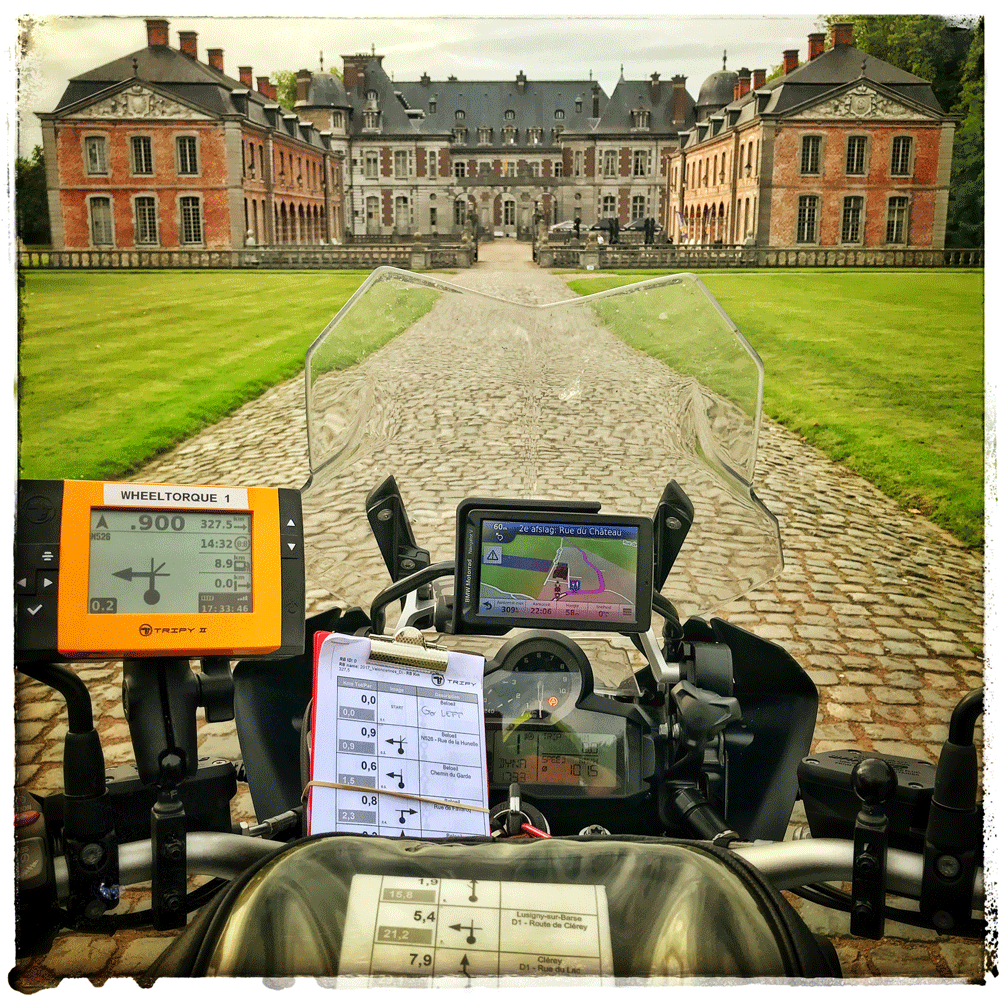 Test road book
Arrive with a full gas tank.
Description "GT Drive Out"
International three-day event for sports car owners and their partner, where Road book driving, and GP track driving, as well as international networking during apero and delicious meals - in a unique setting - are combined.
Atmosphere pictures | Full screen slide show
Price = 1.895 €
Included
Included in the price (standard for one person per car): two overnight stays with breakfast, two lunches, two evenings with each time apero followed by supper with adapted wines, water and coffee; roadbook for 2 days of driving pleasure (650 km), car-door-number-stickers, fun on track the third day, TPL insurance on day 3, basis instruction for those who are interested, guided visit of the "race control" room of the track, photo book and rallye plate as a souvenir, an experienced, professional organisation with guidance in a great atmosphere!
Optional you can choose to participate with two persons (in one car) (= + 495 €).
In this case you 'll have the choice between a double room with one double bed, or with two single beds.
Not included
Don't drink and drive. Spirits are not included in the lunches (at noon).
We would appreciate it if you would respect this and not order spirits on your own bill.
Drinks outside of our program

In case you would check in early and order drinks before the start of our program, please put them on your personal account.
Drinks you order at the bar that are not included in the apero or the dinner.

Helmet for the track day
A helmet is mandatory on track on Monday. This counts for the driver as for the co-driver. There is no possibility to rent one on the track.
Day 1 = Saturday 31 Aug 2019
Arrival at | Start from Castle
Rue du Château 11
7970 Beloeil
Belgium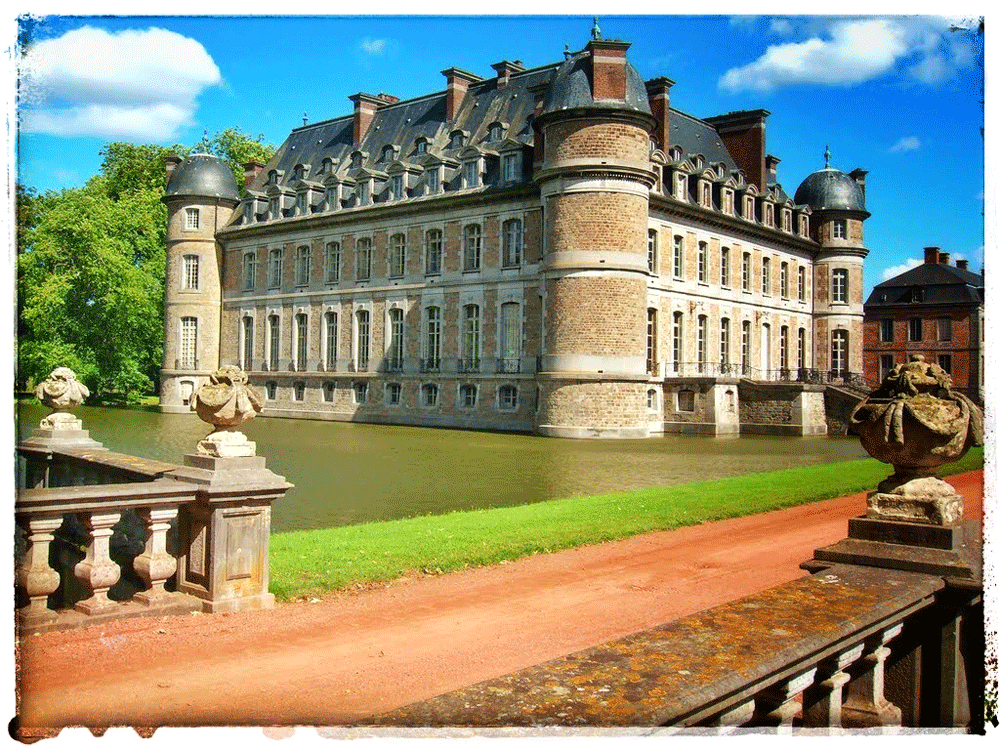 Arriving can from 10.00 AM
Brunch from 10.15 AM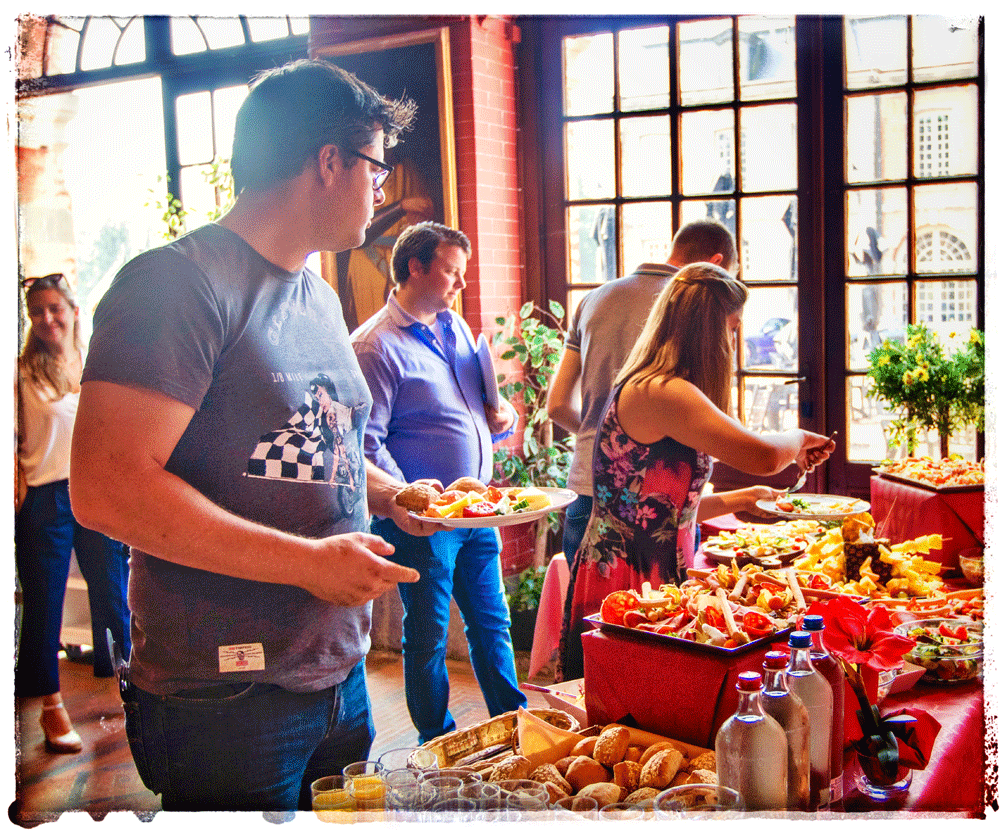 Road Tour Day 1
Briefing and reception Tripy II (= digital road book) @ 11.00 AM
Start road tour from 11.45 AM
Photo shoot with all participating cars @ the old Circuit Reims-Gueux around 3.30 PM.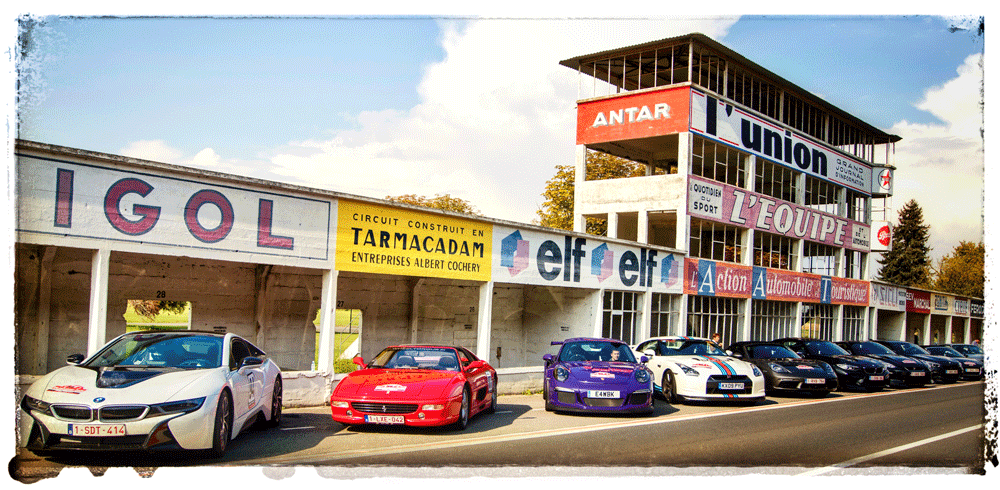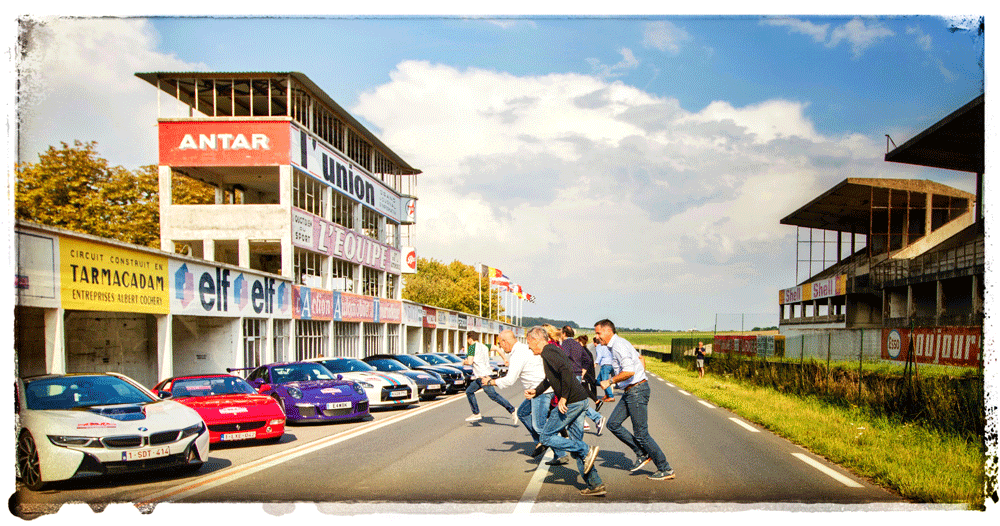 Le Mans start for the fun!
The Circuit Reims-Gueux was a Grand Prix motor racing road course from 1926 untill 1972.
The circuit became known to be among the fastest of the era for its two long straights, allowing maximum straight-line speed, resulting in many famous slipstream battles.
1966 | Grand Prix of France

The major events were the Grand Prix de la Marne (13 editions between 1926 and 1952) the French Grand Prix (16 editions between 1932 and 1966) and the 12 Hours of Reims (8 editions between 1953 and 1966).
A few of the most known pilots who won races @ the Circuit Reims-Gueux: François Cevert (F2), Jackie Stewart (F2 and F3), Jean-Pierre Jabouille (F3), Jochen Rindt (F2), Jack Brabham (F1), Jean-Pierre Beltoise (F3), Jim Clark (F1), Bruce McLaren (F1), Stirling Moss (F2), Maurice Trintignant (F2), Juan Manuel Fangio (F1), Alberto Ascari (F2), Manfred von Brauchitsch (GP), Tazio Nuvolari (GP), etc.
Circuit Reims-Gueux on Wikipedia
After the photo shoot, we continue our road tour to the final destination of the day, via a part of the "Route touristique du Champagne"

Arrival @ Golf & Spa Hotel
Hôtel Golf & Spa en Champagne
Route de Géraudot 5
10220 Rouilly Sacey
France
Check-in: individually, depending from your time of arrival
Parking: there is a separated parking place reserved for our 10 participating cars.
It 'll be shown with the rally plate "VALENCIENNES-DIJON".
Apero @ 7 PM
Supper @ 8 PM
Day 2 - Sunday 1 Sep 2019
Road Tour Day 2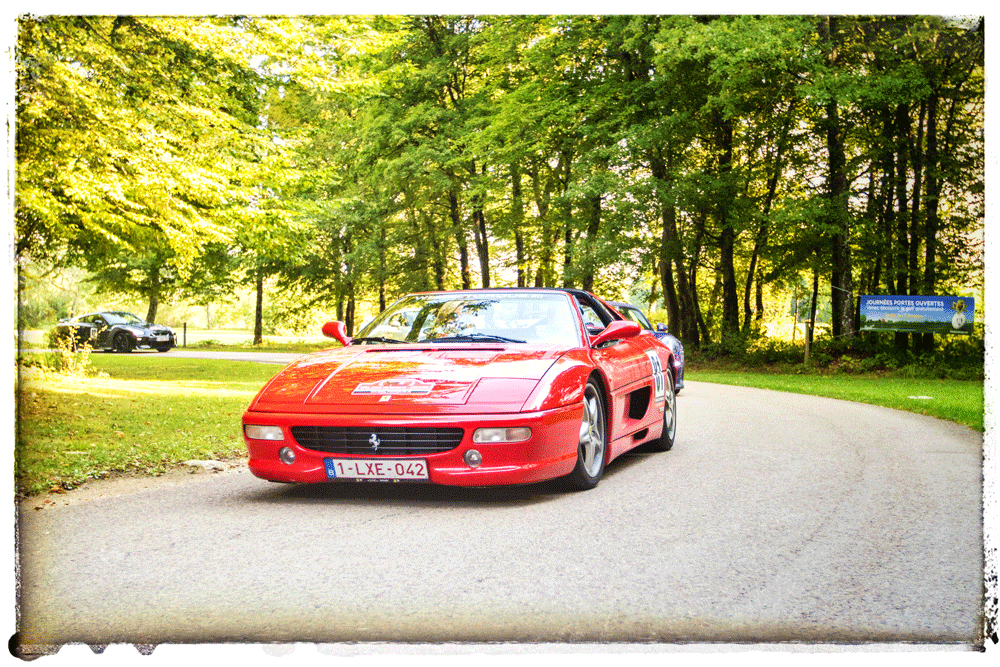 Start of the Road Tour @ 10 AM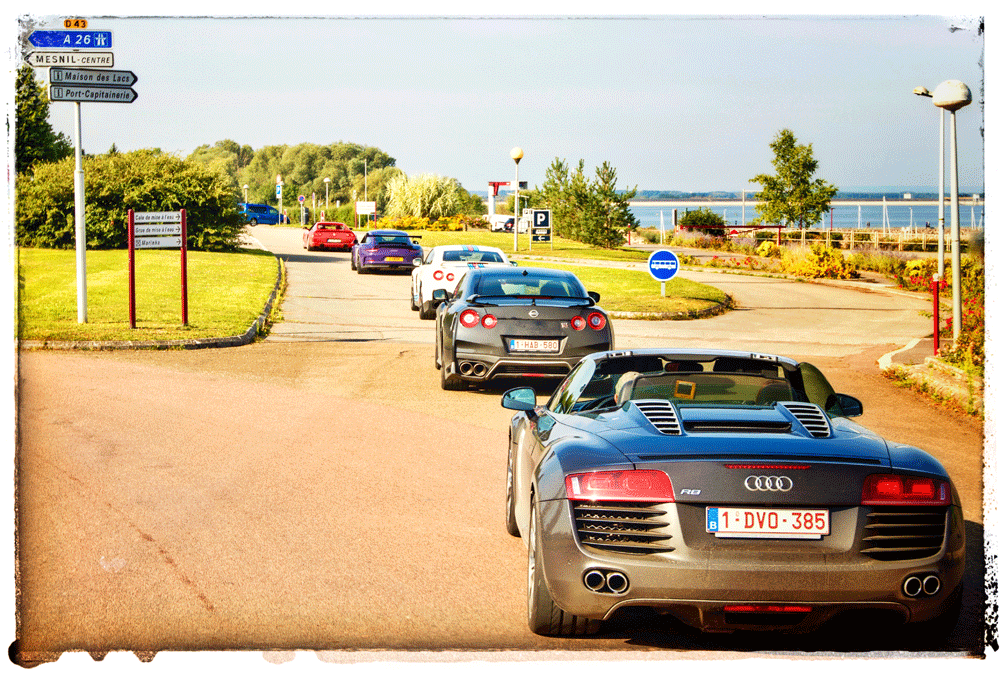 A few beautiful and interesting places that you 'll cross on the road, which are worth a stop, a picture and eventually even a short visit:
Vézelay
Vézelay is a defendable hill town, famous for Vézelay Abbey.
The town and the famous 11th century Romanesque Basilica of St. Magdalene are designated UNESCO World Heritage sites.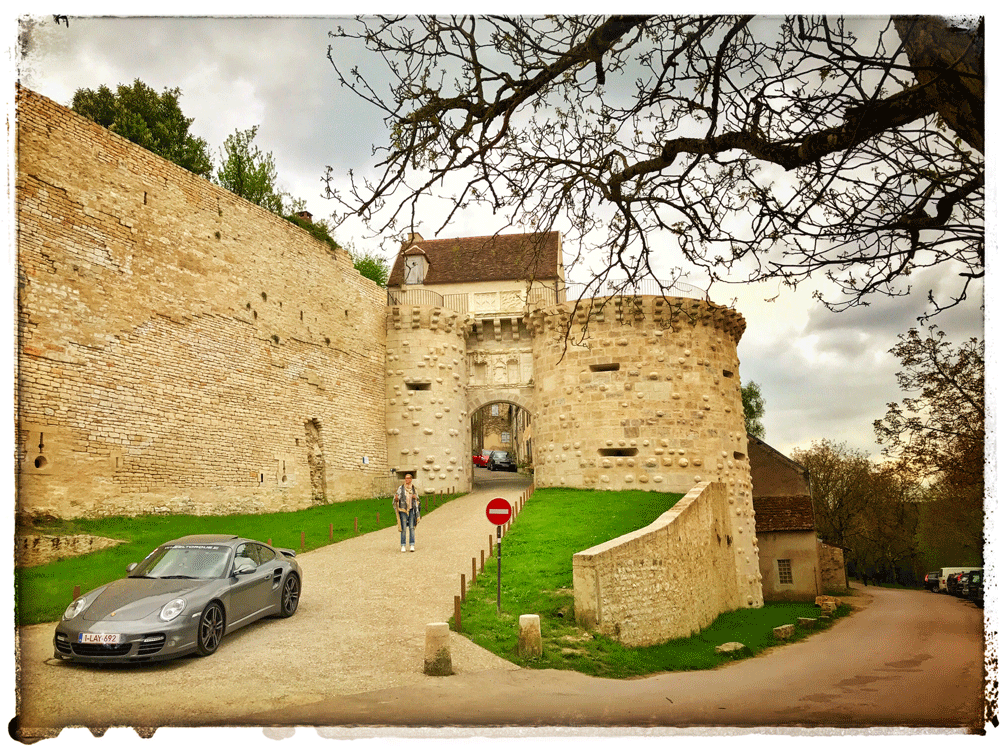 Château de Commarin
The Château de Commarin is first mentioned, as a maison forte, in a document of 1214.
It has passed through 26 generations in the same family and has never been sold.
It has been classed a Monument Historique since 1949.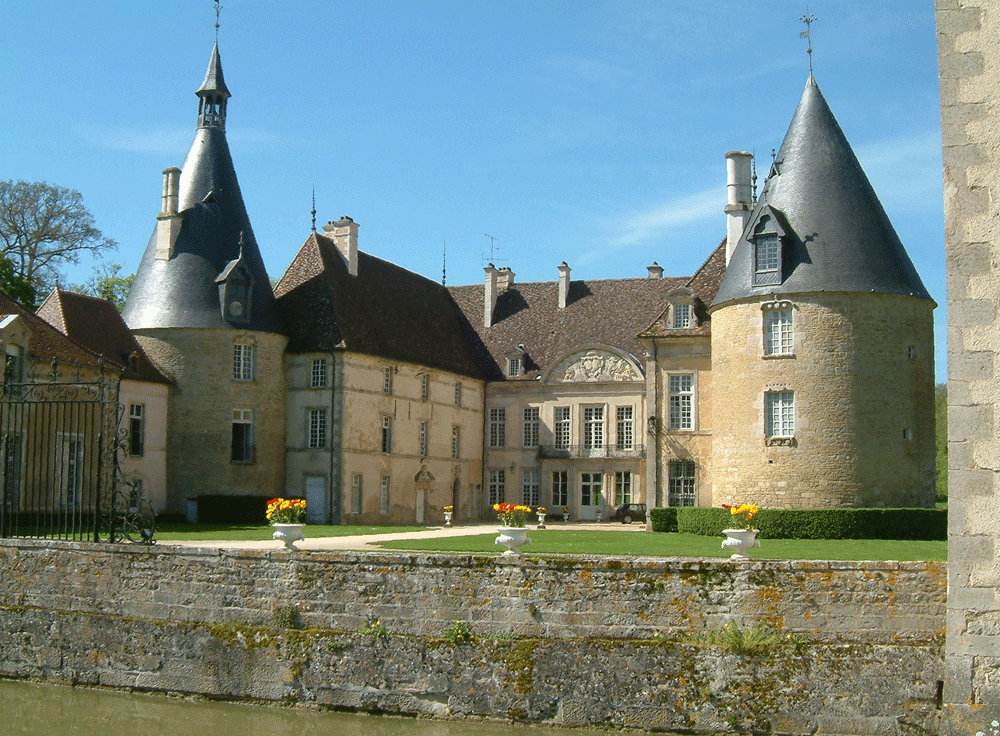 Château de Commarin on Google Maps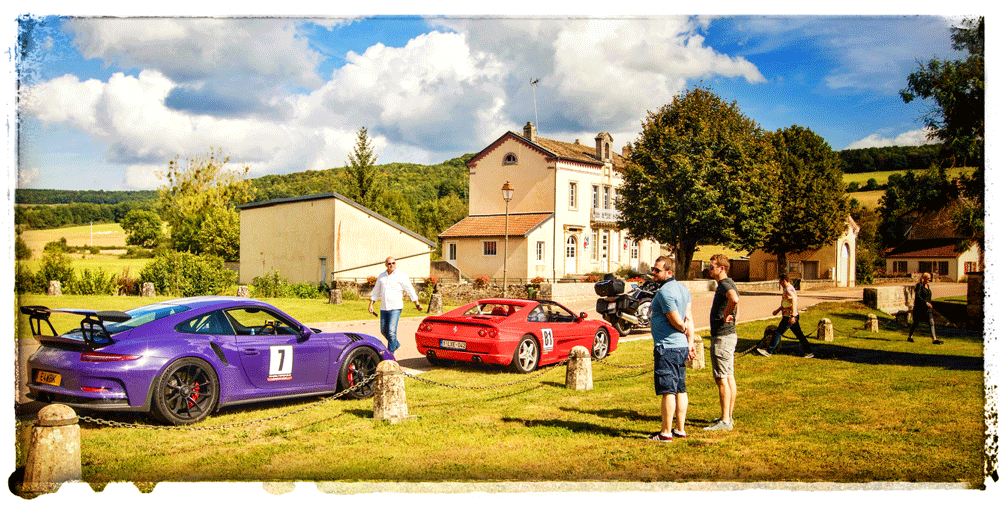 Short stop @ Château de Commarin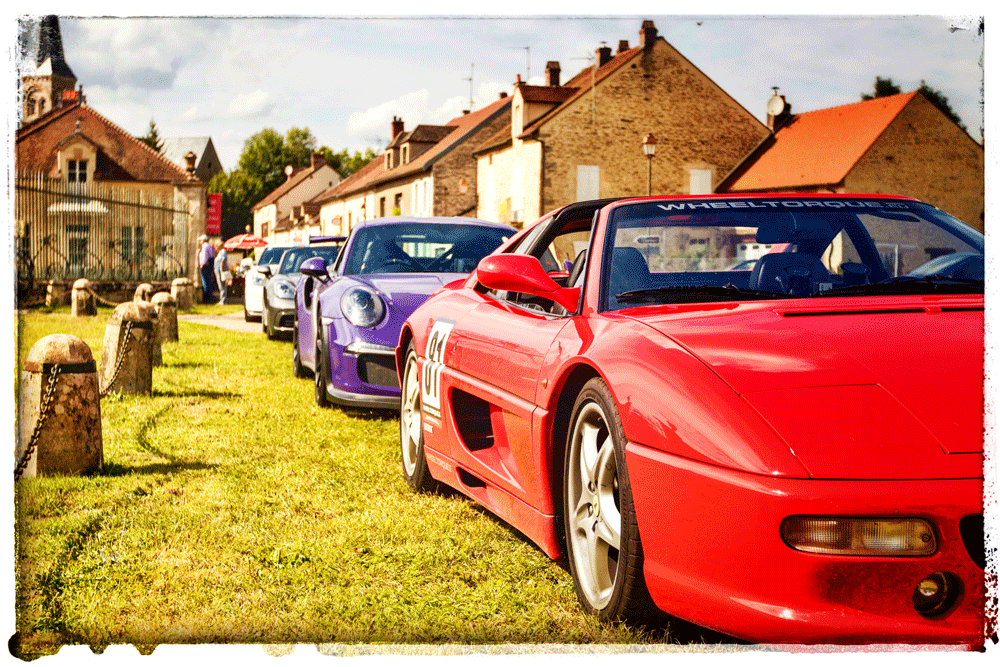 Châteauneuf
Châteauneuf-en-Auxois is known as one of the loveliest villages in France.
High on its rocky spur, the fortified village of Châteauneuf still stands guard over the road from Dijon to Autun.
From the canal de Bourgogne, along the "voie verte", its silhouette forms part of one of the fines views in the region.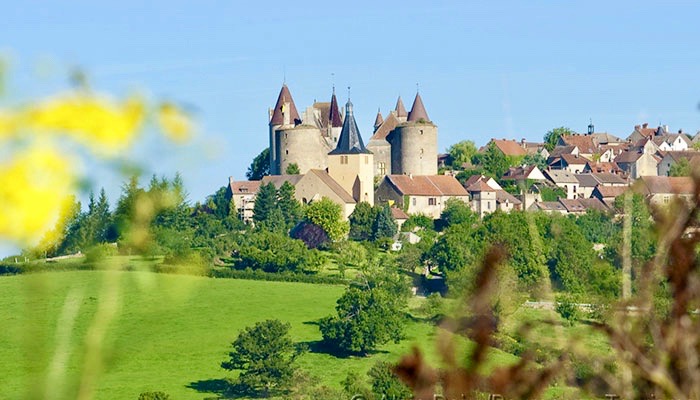 An emblematic place, with as one of its highlights the Castle, which was built in 1132.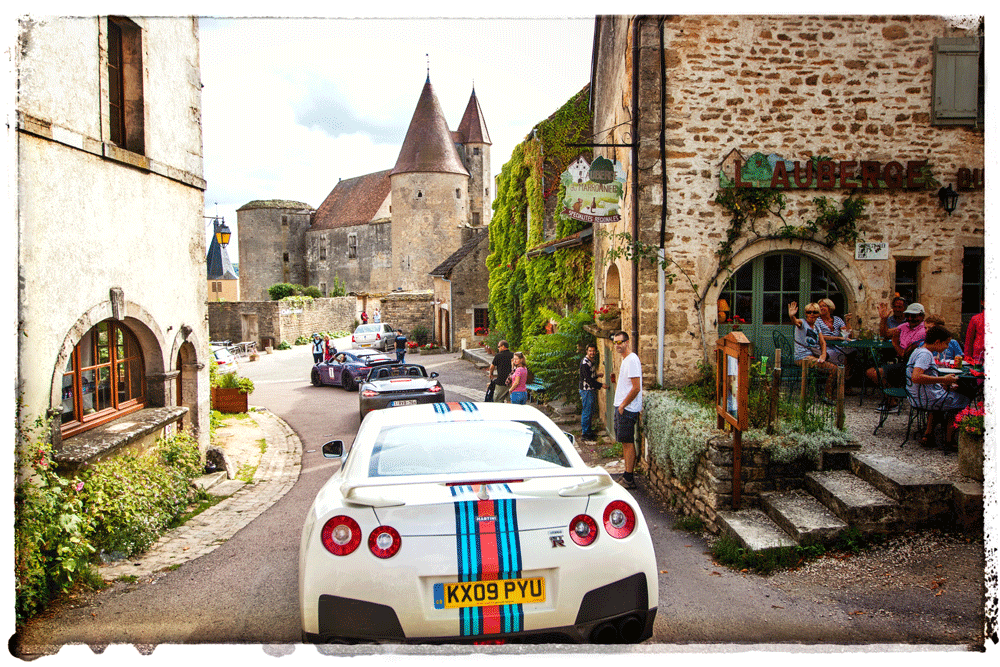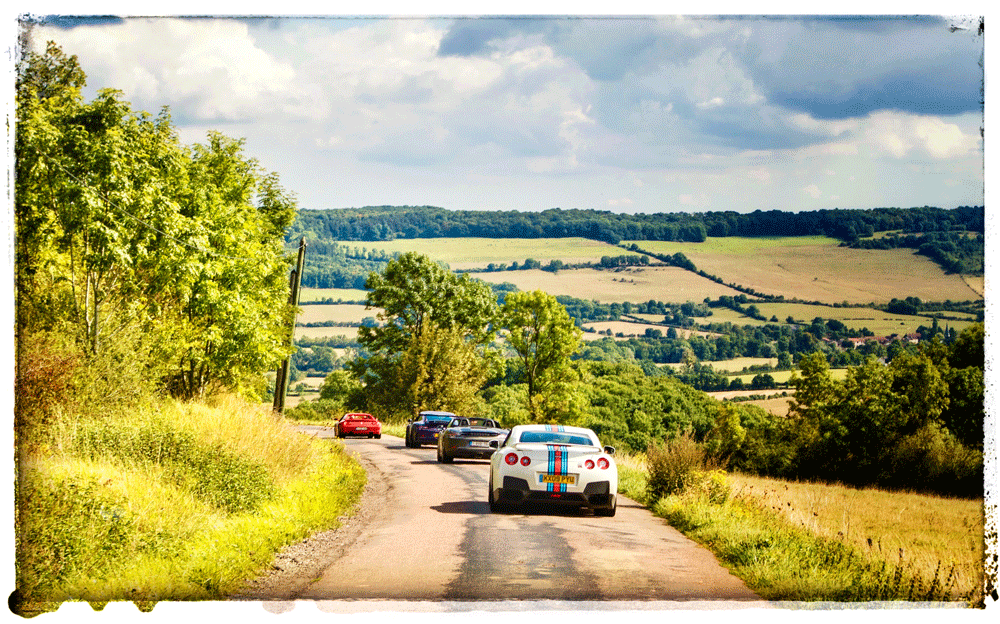 Drive away from Châteauneuf
Clos de Vougeot
Clos de Vougeot, also known as Clos Vougeot, is a wall-enclosed vineyard, a clos, in the Burgundy wine region, and an Appellation d'origine contrôlée (AOC) for red wine from this vineyard.
The initial vineyard consisted of donations in 1109 and 1115.
The vineyard was complete, and a wall had been built around it, by the year 1336.
It served as the flagship vineyard of the Cistercians, and has been a highly recognised name for centuries.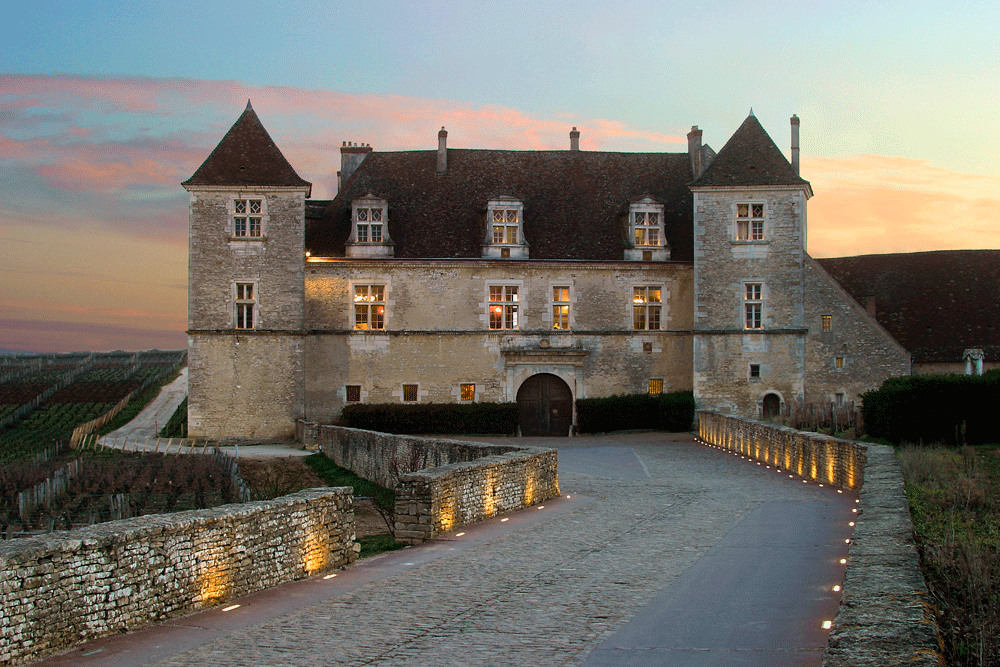 Clos de Vougeot on Google Maps
Arrival at Castle
8 route de Semur
21320 Sainte-Sabine
France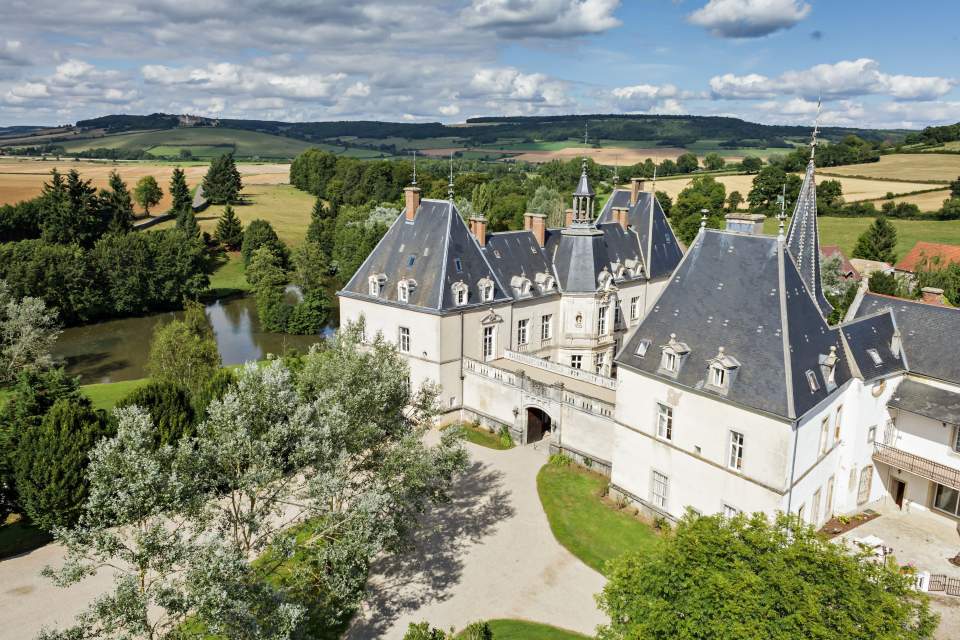 Check-in: individually, according to moment of arrival
Parking: there is a closed parking in the castle domain
Apero on the courtyard from 6.30 PM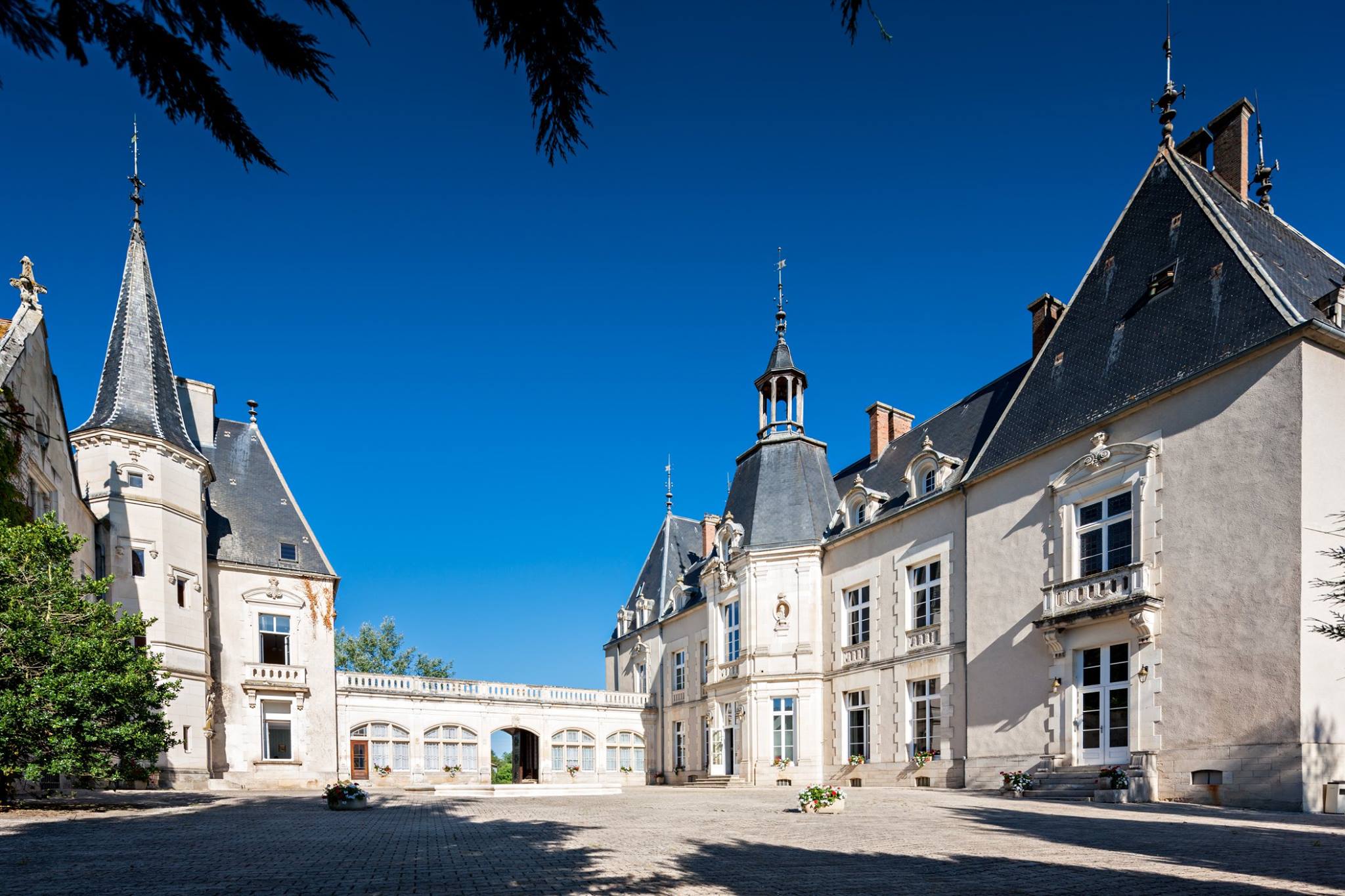 Day 3 - Monday 2 Sep 2019
Circuit Dijon Prenois
Circuit de Dijon Prenois
21370 Prenois
France
The ex-GP track of Dijon Prenois exists since 1972.
Between 1974 and 1984 the Grand Prix of France Formula 1 has been hosted 5 times by the track of Dijon Prenois.
The winners were: Ronnie Peterson from Sweden (1974), the American world champion Mario Andretti (1977), the Frenchman Jean-Pierre Jabouille (1979), the French quadruple world champion Alain Prost (1981) and the Austrian triple world champion Niki Lauda (1984).
1981 | Dijon Prenois | Alain Prost | Start Grand Prix de France
Also the Grand Prix Formula 1 from Switzerland has been organized twice at Dijon Prenois.
Those have been won by the Swiss Clay Regazzoni (1975) and the Finnish world champion Keke Rosberg (1982), father of Nico Rosberg, who became world champion in 2016, 34 years after his father.
The track became world famous in 1979, due to the heroic battle - for second place during the Grand Prix of France - between the Canadian Gilles Villeneuve - father of Jacques Villeneuve, who became world champion in 1997 - and the Frenchman René Arnoux.
1979 video of the battle Villeneuve-Arnoux
The lay-out of the track has been unchanged during all those years, which is unique.
Meanwhile, the surface has of course been renewed several times, the overall security has been improved, and the infrastructure has been modernized.
Program of the day
Recommended presence in the paddock from the track around 9 AM
Mandatory security briefing @ the track at 9.30 AM sharp
Start first driving session on track @ 10 AM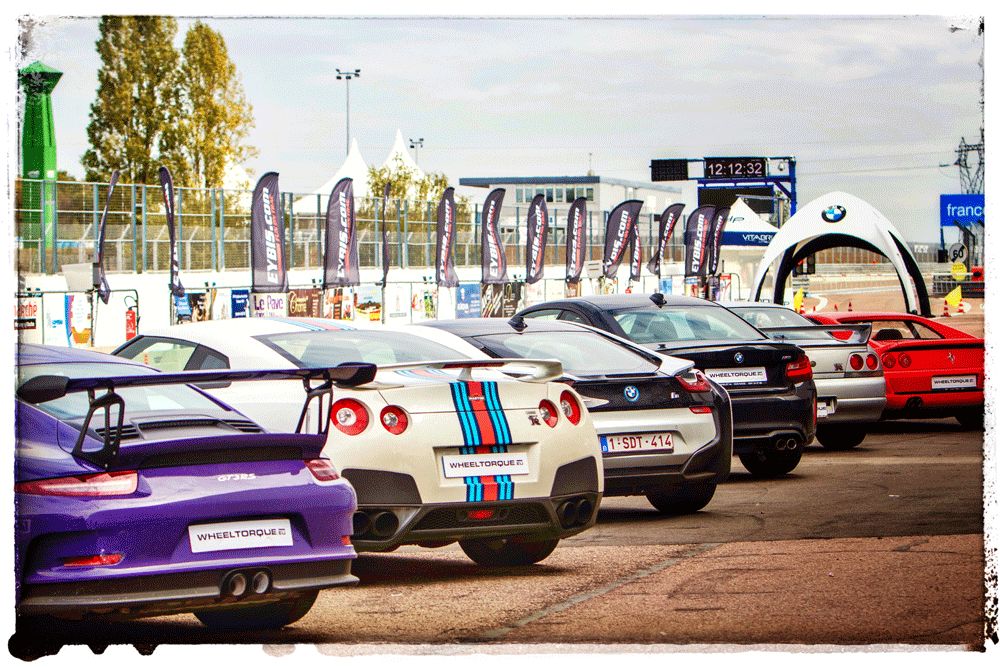 Morning

2 sessions of 20' on track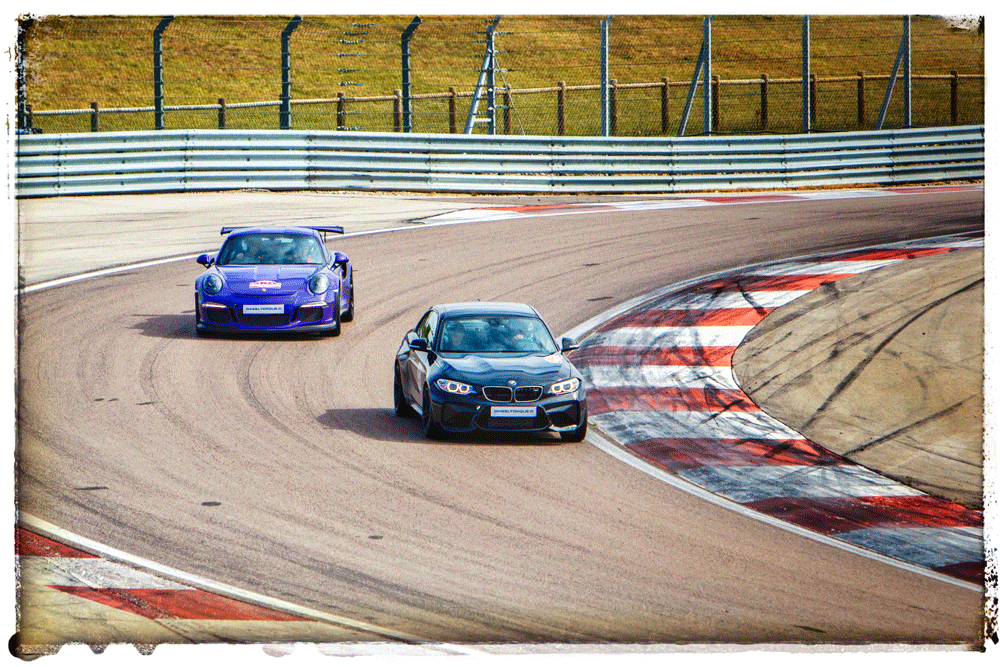 between both sessions: theoretical basic instruction for those who are interested

Lunch in the paddock from the track between 12.15 AM and 1.45 PM
Photoshoot of our cars will be done in the pitlane during the lunch break
Afternoon

3 sessions of 20' on track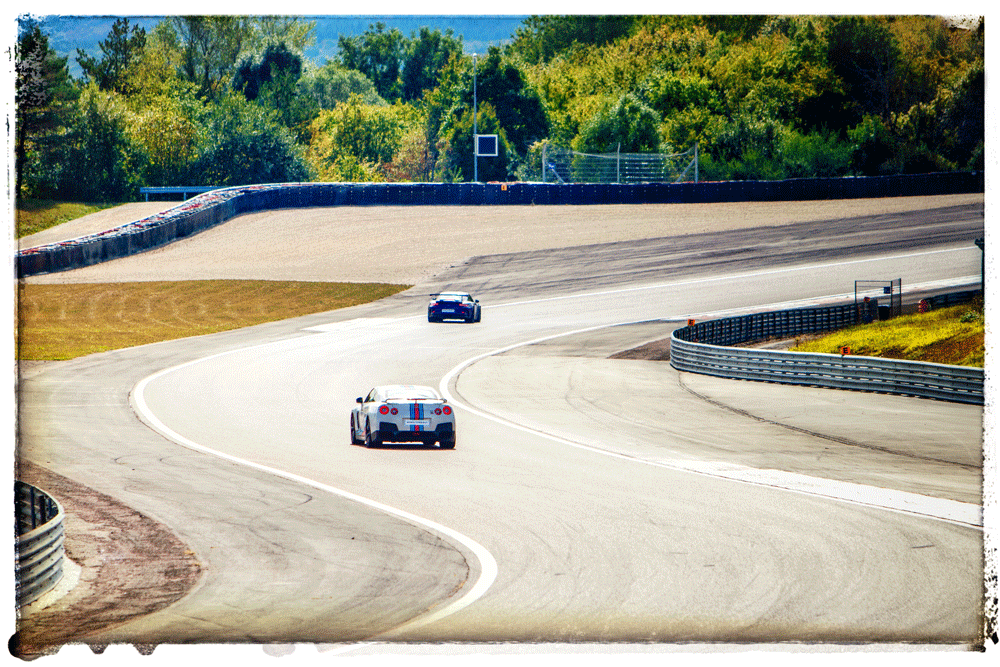 after the first session: guided visit @ race control

From 5.15 PM: Drink in the WheelTorque pitbox
Plan
Noise (dB) limit
Please be aware that the maximum noise that your car may produce, while driving on track (= under "dynamic conditions"), is 100 dB (example: a Porsche GT3 with Akrapovic exhaust = OK).
There will be no static check before you go on track.
Security
Paddock and entrance guarded
paddock and main entrance guardian (day and night)
Track
licensed French track-officials with radio connection
intervention team
safety car
digital, visual control of the complete track from "race control" (a guided visit is planned - for those who are interested - in the afternoon)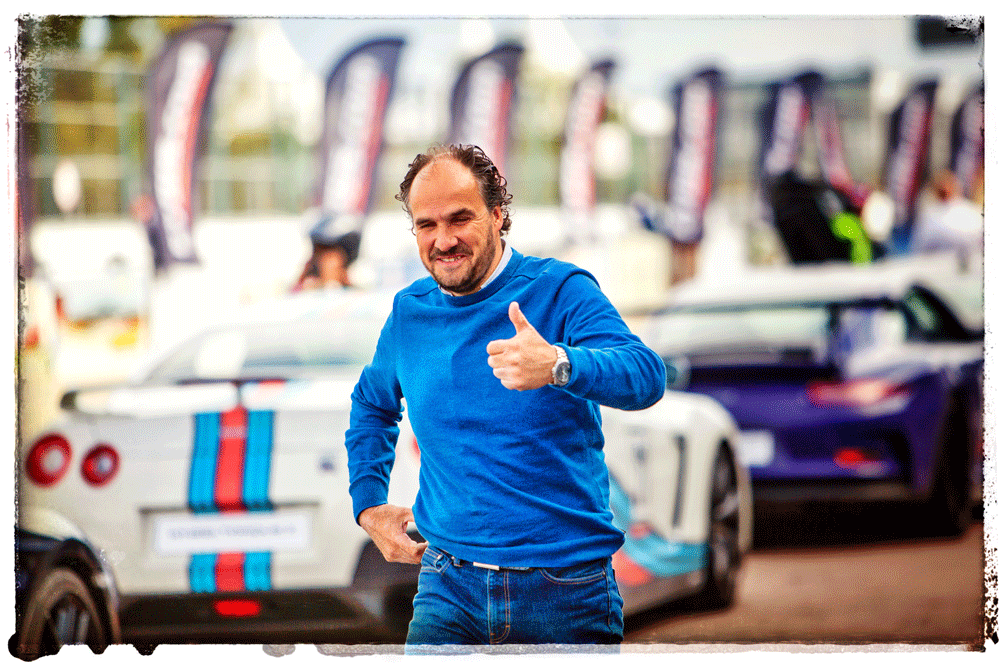 Medical
medical centre with 2 doctors
2 manned ambulances
Fuel
In the paddock
There is a gas station available in the paddock.
Watch out: the price is slightly higher than "normal".
Outside the paddock
Service station TOTAL Access
Distance = 12 km = 10' drive from the track
Boulevard de Troyes 88
21240 Talant
France
Phone: + 33 3 80 57 15 73
Open: 7.00 AM - 9.00 PM
Technical service
We have a limited technical service on site.
Changing brake pads on your car is for example no problem at all (if you brought them with you).
We have no sales of brake pads or other technical parts.
Tyre service
We have a service to check your tire pressure, and put it on the correct pressure if necessary.
There is no tyre sales on site.
Please start this event with "fresh" tyres!
TPL Insurance = included!
At WHEELTORQUE, the TPL insurance (third party liability) is included in the booking price
Some circuits require a license. The only reason for this is that there is a TPL insurance included in it
Because we provide for all participants - included in the price - such a TPL insurance, a license is not requested during our events
Geographical situation
When you click on the mentioned locations below in blue, they will appear immediately in Google Maps.
Saturday morning
Saturday afternoon
Saturday evening

Sunday evening
Monday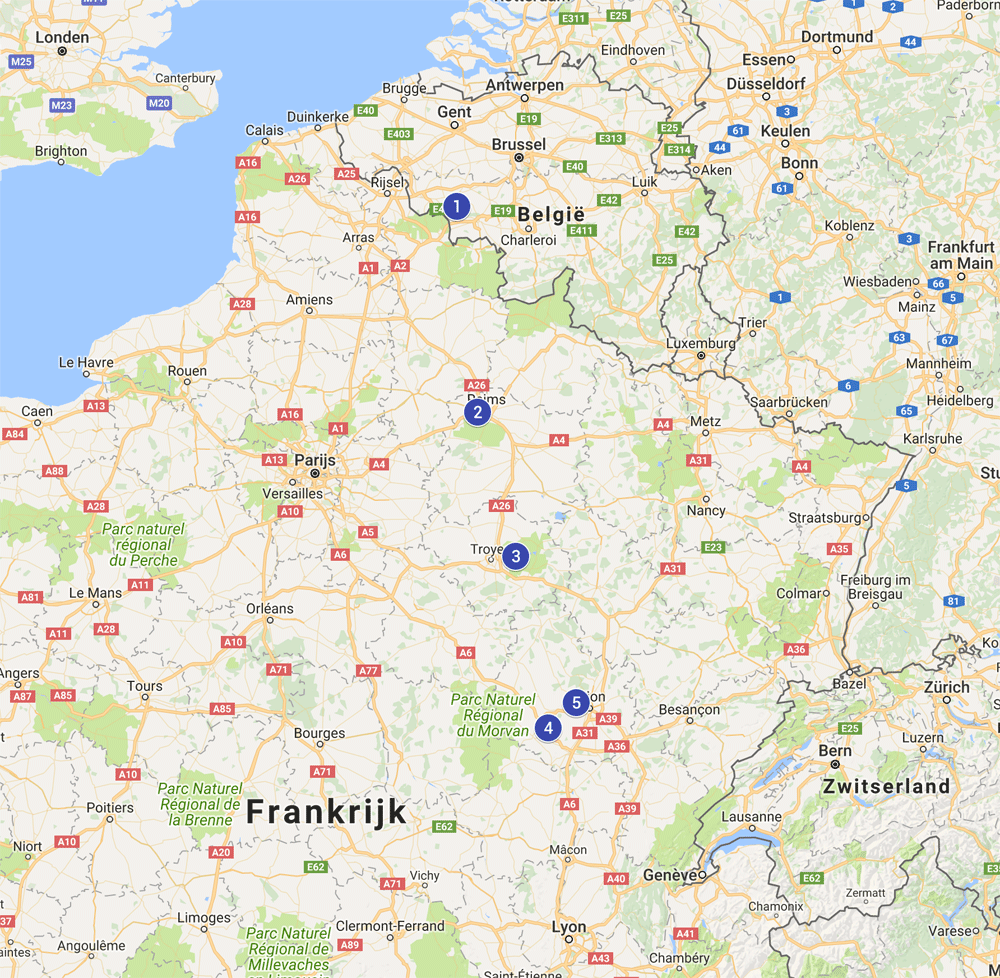 Last info
At any moment we can add extra information on this page. Please make sure you check this page shortly before the event!
On Facebook we have a Wheeltorque Car Events page.
On that page we post the following: pictures (different ones than one the webiste), updates on information regarding the website, a free place on an event due to a last minute cancellation; etc.
This is also the place for "Instant Info". For example: one hour before the start of the road tour, someone of the organisation will test the road tour one last time in order to make sure that there are no roadworks started the day before. If that would be the case, then we will communicate this - together with an appropriate solution - immediately on our FB page. You will also find a mobile phone number on the page in case you would have any questions.
If you have a GT car or if you attend our event, make sure you like our FB page.
Wheeltorque is also present on Instagram.
Are you active on social media?
Hashtags of this GT Drive Out:
#wheeltorque #gtdriveout #valenciennesdijon
Search via those hashtags on Facebook and Instagram to see what others have posted and post about this event!
We are looking forward to see you and have a safe and fantastic event together.
If you would have any question at all, call Frank on + 32 476 691 091. See you in Château de Beloeil!