METTET
GT Track Day

Monday 17 June 2019
6 x 20' | 165 €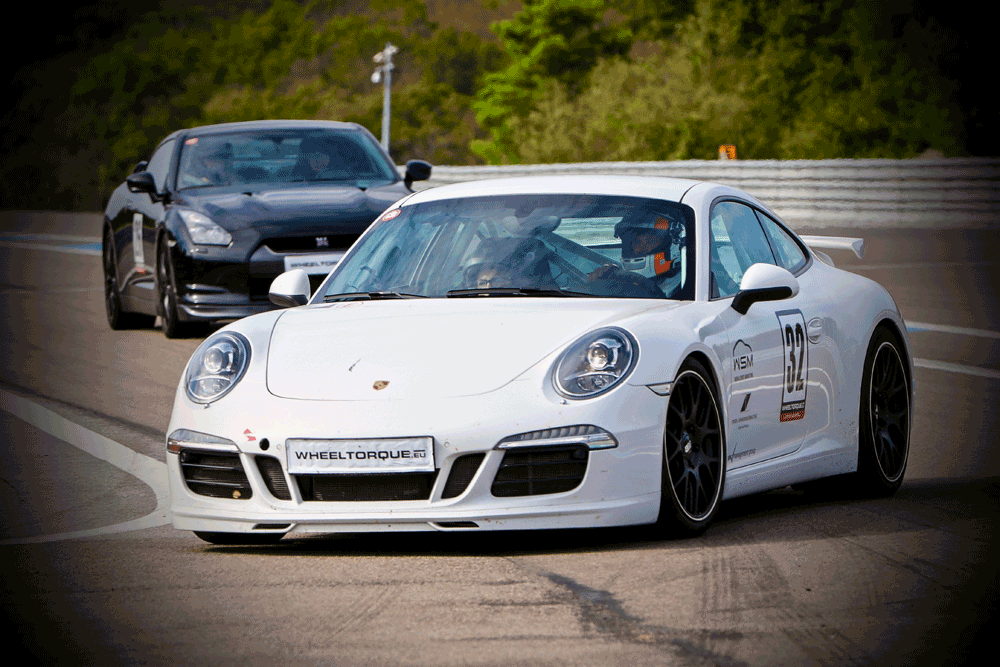 Authorized cars

Abarth - Alfa Romeo 4C | 8C - Alpina - Alpine - Artega GT - Aston Martin - Audi R8 | RS | S - Bentley Continental GT | GT3-R - BMW M | i8 - Bugatti - Cadillac ATS-V | CTS-V - Caterham - Chevrolet Camaro | Corvette - Dodge Challenger | Viper - Donkervoort - Ferrari - Ford GT | RS | Mustang - Honda NSX | Type R - Hyundai i30 N - Infiniti Q50 | Q60 - Jaguar F-Type | XKR | SVO - Kia Stinger - Koenigsegg - KTM X-Bow - Lamborghini - Lexus IS | LC | LFA | RC | RC F - Lotus - Maserati - Mazda MX-5 | MX-5 RF - McLaren - Mercedes-AMG - Mini John Cooper Works - Mitsubishi Lancer EVO - Morgan - Nissan GT-R | 370Z - Noble - Pagani - Peugeot Sport - Porsche - Renault Sport | R.S. - Rolls-Royce - RUF - Savage Rivale GTR - Skoda Octavia RS | Superb Sportline - Spyker - Seat Leon Cupra - Subaru BRZ | WRX STI - Suzuki Swift Sport - Tesla - Toyota GT86 | Supra - Volvo T6 - VW Sport - Wiesmann.
If you would like to participate with a car which is not listed, but you sense should be, call Frank at + 32 476 691 091.
Timetable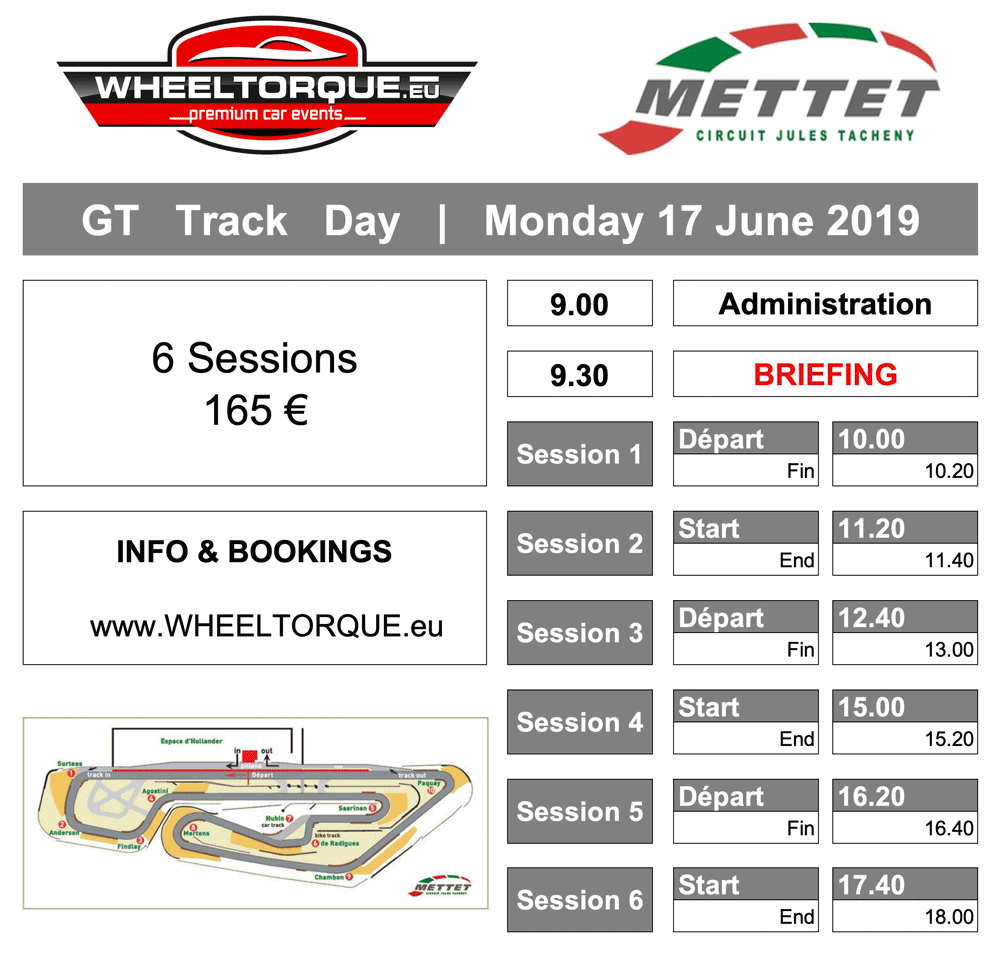 Don't forget
Car that is technically 100% fit

cleaned on the outside (pictures)
cleaned windshield
checked the amount of

oil
coolant
windshield washer fluid

reasonably "fresh" tires
brake pads with some "margin" - in doubt bring extra pads with you, we can mount them for you
towing eye (has to be mounted before going on track)

Helmet | Shirt or jacket with Long sleeves | Long trousers | Comfortable, Closed shoes
Identity card | Driving licence
Positive attitude, discipline, good fellowship, a fit body in a clear mindset
Noise (dB) limit
Please be aware that the maximum noise that your car may produce, while driving on track (= under "dynamic conditions"), is 98 dB (example: a Porsche GT3 with Akrapovic exhaust = OK).
There will be no static check before you go on track.
Security
Paddock and entrance guarded
paddock and main entrance guard (day and night)
Track
licensed track-officials with radio connection
intervention team
safety car
digital, visual control of the complete track from "race control"
Medical
medical centre with 2 doctors
2 manned ambulances
Fuel
In the paddock
There is no fuel station in the paddock.
Don't forget to bring one or two jerry cans with you.
Outside of the paddock
TOTAL petrol station
Distance = 500 m | Time = 1'
+ 32 71 72 77 70
Rue de Saint-Donat 1
5640 Mettet
Belgium
Technical service
We have a limited technical service on site.
Changing brake pads on your car is for example no problem at all (if you brought them with you).
We have no sales of brake pads or other technical parts.
Tyre service
We have a service to check your tire pressure, and put it on the correct pressure if necessary.
There is no tyre sales on site.
Meals | Drinks
There is a snack bar in the red building in the paddock, open the whole day

A

t 500 m of the circuit (direction Mettet Center), there is also a snack bar / chips stand

In the surroundings, there are some nice little restaurants

for the evening
Address
Circuit de Mettet
Rue Saint-Donat 6
5640 Mettet
Belgium
TPL Insurance = included!
At WHEELTORQUE, the TPL insurance (third party liability) is included in the booking price
Some circuits require a license. The only reason for this is that there is a TPL insurance included in it
Because we provide for all participants - included in the price - such a TPL insurance, a license is not requested during our events
Questions?
Do not hesitate to call us!
Frank: +32 476 691 091